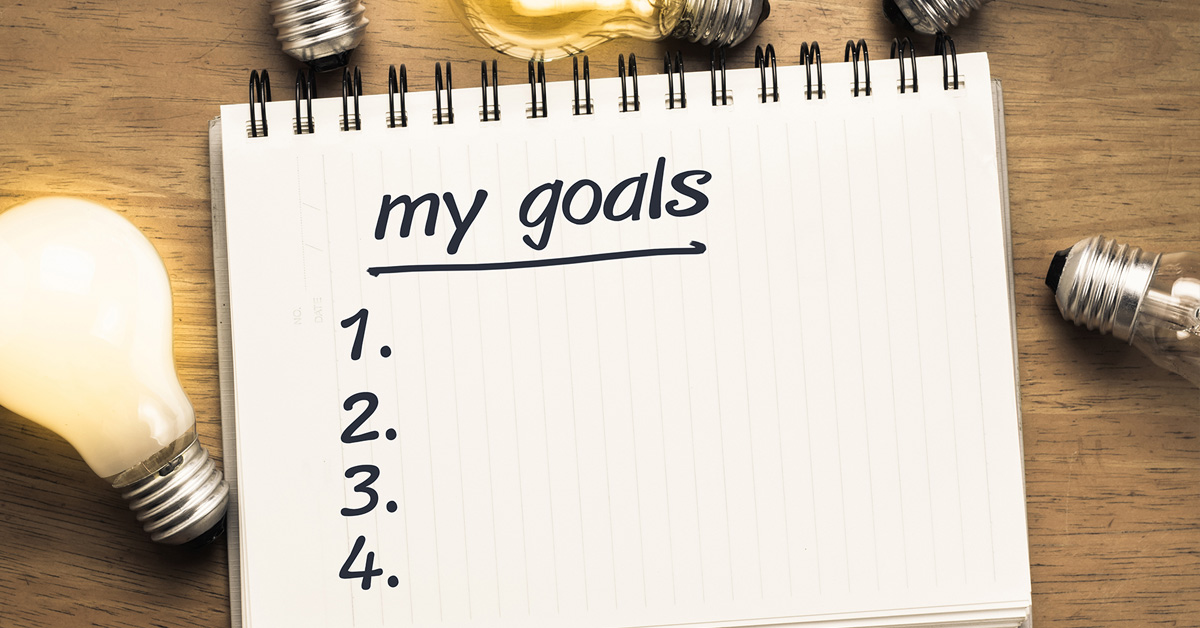 5 Goal Setting Mistakes That You're Probably Making
Posted: January 31, 2023
We are one month into the new year, and that means resolutions. Lots of them. How are yours going so far? Are you making any of these 5 sure-to-fail mistakes?
Setting goals gives us a clear direction forward to achieving them. But there are a few common mistakes that can quickly derail your progress! For example, studies show that 80% of New Year's resolutions have failed and been forgotten by February 15, so be sure to keep these in mind and you'll be far more likely to reach your goals!
If you think you are making any of the following mistakes, there is still plenty of time to get back on track and hit your january goals!
1. Not Writing Down Your Goals.
On paper. With a pen. It might sound old fashioned but there is scientific proof writing down your goals works. In fact, a Harvard study found that only 3% of people write down their goals, however those who set written goals with actionable plans were an average of 10 times more successful at achieving them!
2. Setting Too Many Goals.
No matter what self-help-Twitter and inspirational-quote-Instagram keep telling you, we humans are simply not able to change every single aspect of our lives at once. None of us have the mental bandwidth to make such overarching, sweeping changes, and most of us don't want to, anyway. Setting a maximum of three focused and highly-specific goals for the new year, is a more likely path to success; anything more is a one-way ticket to let-down land.
With too many goals, we can spread ourselves too thin, and become discouraged by our lack of momentum. With too many simultaneous, abrupt changes, we could find ourselves so far outside our comfort zone, that we give up on the whole enterprise completely. And for those who think three goals is too few- you can always set new goals (in spring, or summer or even fall) once the initial goals are met and mastered.
3. Not Setting Specific, Measurable Goals
If you just say "I want to eat healthier," that is not specific and leaves plenty of room for those chocolate croissants to sneak their way onto your plate. It's vague and therefore not easily measurable. Or, if you say "I will exercise more," that's great, but it is very unspecific. Our brains respond well to specificity, so the more clarity you have in your goal-setting, the more likely you will be to envision it and follow through. A more specific and measurable goal would be to say "I will use a meal-plan and make sure every Sunday that I am prepared for the week of meals," or to choose a specific sport or exercise and commit to it 3 times per week.
4. Not Choosing Achievable, Relevant Goals
How does the goal fit into the structure of your current life? If you choose goals that are less than relevant to your life, they stand a greater chance of failure. If you have, say, a demanding job in a specific career, but you have always dreamed of becoming a professional lion-tamer, it might be a bit difficult to bring that to pass in a year. But if your goal is to create more free time in your hectic life to pursue hobbies and dreams (like lion-taming!), then your goals are both more relevant and achievable.

5. Join A Challenge!
Let's say part of your goal is to exercise several times per week. Consider finding a workout partner for accountability, and challenge each other to track your foods in a calorie counting app, while working out together an agreed-upon number of times each week.
If this sounds like the kind of thing that would give you that extra motivation, that's because it IS! And if you think that reaching your goals for the year would be easier in a group setting with the added accountability, then you will definitely want to check out our Martial Arts classes!
Martial Arts helps us develop the persistence and perseverance that are so crucial to successful goal-setting in a fun group setting. In fact, Martial arts can help us set better goals with more clarity, to maintain our focus, and stay accountable. And for children, Martial Arts has also been shown to help with grades, behavior, coordination, confidence and the developmental process!
We want to support the members of our community in setting and achieving great goals for this year and beyond! That's why we're offering this limited special to help you kick the year into gear! Click the link below to try our amazing web-only specials and make this year your best yet!